The V&A Waterfront, Cape Town
Set against one of the most breath-taking sea and mountain backdrops imaginable, the Victoria and Alfred Waterfront, named after Queen Victoria and her second son Alfred, lies in the heart of Cape Town's working harbour, between Robben Island and Table Mountain.
The V&A Waterfront, a renovation of part of Cape Town's Dockyard, is one of the mother city's biggest tourist attractions. It draws over 20 million visitors a year and is a combination of shopping, entertainment and office locations, hotels, apartments and residential marina. The idea is that one lives, works, shops and plays at the V&A. Shops are open well into the night and cinemas and restaurants attract both locals and visitors.
In the last 140 years there have been a number of changes to the harbour, including redevelopment of land and buildings surrounding the original Alfred and Victoria basins – built between 1860 and 1920. The V&A Waterfront project took over 30 years of planning to redevelop the historic docklands, making a feature of some of the former architectural landmarks of historical value and ensuring that they retain their character.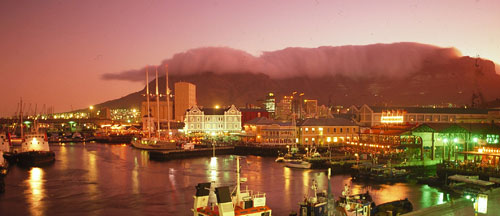 One such example is the Clock Tower – a Victorian Gothic-style clock that was an icon of the old docks. The clock was restored in late 1997 and is now a national monument at the site of the original Bertie's Landing Restaurant. Unusually, a colony of Cape fur seals is a familiar sight at the landing near here on the old tyres that line the quayside and a delight to visitors.
The Dragon Tree is over 100 years old, and one of the largest of its type in Cape Town. Badly damaged by storms in 2001, the tree stands, nonetheless, next to the Time Ball Tower, another example of Victorian architecture, near the Dock House.
The V&A Waterfront offers trips to Robben Island at the end of Quay 5 on jetty 1 and you can also go on a number of pleasure cruises, yacht charters and trips. From the Waterfront you are close enough to the city centre to reach several attractions by foot or catch one of the many bus tours from here. The Two Oceans Aquarium, with over 3000 living sea animals, including sharks and penguins is also at the Waterfront and worth a visit just for the enchanted kelp forest exhibit.
To view additional information about Cape Town's Waterfront, visit: V&A Waterfront.
Related Links