Robben Island, Cape Town
Robben Island, just off the coast of Cape Town, is famous for the imprisonment of South Africa's first democratic President, Nelson Mandela in its maximum-security prison and its association with apartheid.
However, today the island is a World Heritage Site and home to a museum that reflects the triumph of the human spirit over adversity. Robben Island lies just 12 km offshore and is one of the highlights of any trip to Cape Town.
It was not always a prison. People originally lived here, before the sea cut off the spit of land that connected it to the Cape mainland. It was only after the Dutch arrived in the Cape in the mid-1600s that its use as a place of incarceration began. Because of its remoteness its advantage as a place of isolation for leprosy patients and the mentally ill meant that it was used for this purpose between 1846 and 1931.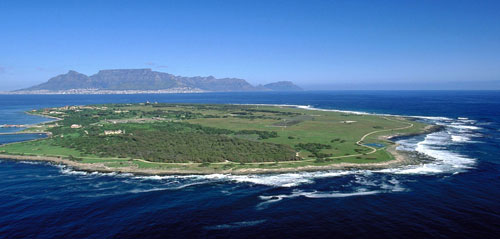 Robben Island was a prison for indigenous African leaders, Muslim leaders from the East Indies, Dutch and British settler soldiers and civilians, women and anti-apartheid activists.
It was after the unbanning of the ANC and the beginning of the end of apartheid, in 1990, that political prisoners began to be released from the island. The island only ceased being a jail in 1996 with the departure of the last common-law prisoners and it was in 1999 that Robben Island was finally declared a World Heritage site of cultural significance.
The museum also arranges workshops, tours and camps for children and adults keen to learn about both the historical and modern day South Africa. The youth camps in particular, explore the themes of racism, sustainable development, sexism and gangsterism in an attempt to embrace a culture of human rights and respect for ethnic, cultural and religious diversity.
Visitors can see the former prison, view memorabilia of past prisoners, visit the quarry mines where prisoners were forced to dig and other buildings. The island is also a sanctuary for bird life, with over 132 bird species and the ferry trip to the island offers a chance to spot some of the marine life.
To view additional information and photos of Robben Island, visit: Robben Island.