Table Mountain, Cape Town
Cape Town's icon, Table Mountain, stands with her base firmly within the Table Mountain National Park, 1 086 metres above Table Bay. The imposing table top, more often than not draped in rich cloud that seems never to quite tumble from its sides, is a national monument and her shape has been adopted as a ubiquitous scribble for many a company logo of those working within her shadow.
The mountain is sculpted from sandstone and her summit measures nearly 3km from end to end. Views from up here are remarkable and the panorama stretches from Table Bay to False Bay around the mountain to Hout Bay and Kommetjie.
When skies are clear, one can see right across the Cape Flats to the Hottentots Holland Mountains. No surprise then, that the cable way is the most popular tourist destination in Cape Town or that well over 16 million people have visited her summit since its opening in 1929.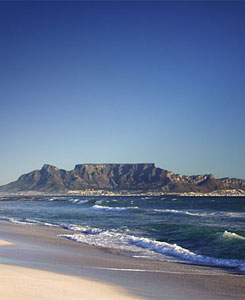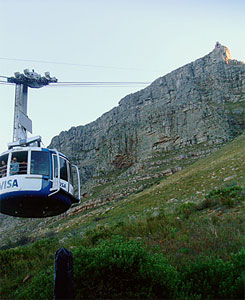 The cable way, which, weather permitting, allows one to reach the top of Table Mountain in minutes, rivals some of the best in the world. Recently upgraded in 1997, the new cars, or Rotairs, have revolving floors that give passengers a 360-degree view over Cape Town and Table Mountain as they ascend and descend.
There are about 350 paths to the summit that range from undemanding to extremely difficult and a network of over 550 walks on Table Mountain. The Hoerikwaggo Table Mountain Trail is a luxury 3-day, guided and portered, fully catered hike launched in December 2005. It incorporates some of Cape Town's major attractions, such as the District Six Museum, Table Mountain's summit, two nights in the Table Mountain National Park and Kirstenbosch Botanical Gardens.
Nowhere else in the world does an area of such rich bio-diversity exist almost entirely within one metropolitan area as the Table Mountain National Park. It stretches from Signal Hill in the north to Cape Point in the south and includes the seas and coastline of the peninsula. Infact, Table Mountain National Park has more plant species than the British Isles.
Table Mountain is covered with a wide variety of wild flowers and is the natural home of the Silver Tree. She is floodlit during specific times of the year, including Christmas and New Year, and her imposing strength then looms over the city both night and day.
To view additional information about Table Mountain, visit: Table Mountain or to view photographs of Table Mountain, visit: Table Mountain Photos.