Boulders Beach Penguin Colony, Cape Town
Boulders Beach, named after the huge granite boulders that offer protection from the wind, is not only one of the most sheltered beaches in Cape Town but is also home to a colony of African Penguins that has been here since around 1982. And you don't have to work too hard to figure out why – it is debatably the prettiest and certainly one of the best swimming beaches in Cape Town, despite being all they way out in Simons Town (an easy trip by train, for those contemplating the trip). If you were a penguin, you would live here too!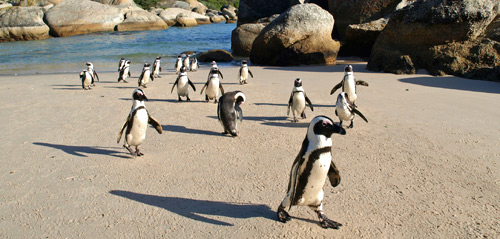 Formerly known as the Jackass Penguin (the sounds they make are oddly reminiscent of those of a donkey), the African Penguin (a name adopted to differentiate between it and the Jackass Penguin in South America) is the only one to frequent the continent of Africa and its inshore islands.
Penguins have been around since around the end of the time of the dinosaurs, so roughly 65 million years. They are essentially kitted out for cold weather, and, despite the rather chilly temperatures of our sea water, have had to adapt to cope with the heat when on land by evolving a black stripe that curves across the front of their chests.
Whilst the swimming beach is next door to the penguin colony, enough of these diminutive creatures waddle between the cracks in the boulders to join humans in their swimming endeavours to make a visit delightful for children and adults alike. There is an entrance fee, which gains one access to the different walkways and view points, as well as the beach.
To view additional information about the Boulders Beach Penguins, visit: Penguin Colony at Boulders Beach.